All-year avalanche training area opened in Cairngorms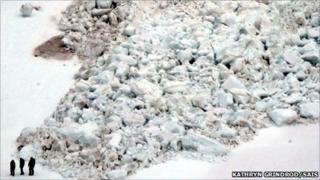 An area where people can train year-round in the use of devices designed to help find avalanche casualties has been opened in the Cairngorms.
Transceivers - which some skiers, walkers and climbers carry on trips into the hills - are buried under wood chips at Glenmore Lodge.
People can train with the gadgets all year and do not need to wait for a covering of snow.
Sports Minister Shona Robinson has welcomed the opening of the area.
Glencoe Mountain also has a transceiver training park and Nevis Range, near Fort William, is in the early stages of creating a similar facility.
Meanwhile, online training in avalanche awareness and an information card with advice for hillwalkers, skiers and climbers are to be developed for Scottish winters.
The ideas were discussed at a workshop run during a at the Snow and Avalanche Foundation of Scotland (SAFOS) seminar in Edinburgh last month.
The foundation and Sportscotland Avalanche Information Service (SAIS) are helping to develop the suggestions.
E-learning could be offered as part of wider training in avalanche risks.
Set up 10 years ago, SAFOS promotes education and research on avalanches and snow conditions.
It advises Sportscotland on the role of the SAIS, which issues daily avalanche forecasts during winter months.
This year, it will start issuing reports for the 2011-12 season from 15 December.
Avalanches in Scotland last winter included a slide in the Northern Cairngorms in April that generated huge amounts of debris.
The avalanche, off an area known as the Great Slab at Lochain, usually occurs in May.
Heavy rain, warm temperatures and high winds were suspected to have caused the early release of snow.
More than 170 avalanches were recorded by the SAIS last winter.
Two skiers from the Edinburgh area survived being swept 2,000ft (610m) down a mountain by an avalanche in Glencoe in February 2010.