Warm weather melts summit snow in Cairngorms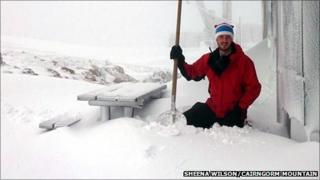 Coverings of fresh snow on Scotland's mountains have disappeared in a warm spell of weather.
Last month, snow drifted to waist-high depths in places in the Cairngorms.
Mild weather has been a feature of the past few days in parts of the Highlands, with temperatures in Inverness reaching 19C on Monday.
RSPB Scotland said "unseasonable" warm conditions were likely to have resulted in recent sightings of butterflies in the Highlands.
Ski resort CairnGorm Mountain said light coverings of snow, which drifted in places, had completely vanished, even at the summits.
On 19 October, a member of staff photographed a snow drift at the centre's Ptarmigan building which reached a colleague's midriff.
CairnGorm Mountain's Colin Kirkwood said temperatures reached 12.9C on Thursday.
He said: "It was not quite at record levels. Around 2007 we had a November maximum of 13.6C.
"Usually we have on average 11 air frost days in November. We haven't had one yet, though it is still early."
Mr Kirkwood added: "What has been significant this year is that at car park level, which is at 635m, we have had five gales in the last two weeks.
"Normally, we would maybe have one gale in that period."
Last year, the ski season at CairnGorm started early on 13 November.
The season also started early at Scotland's other resorts - Glencoe, Glenshee, Lecht and Nevis Range.
Stuart Benn, a Highlands-based RSPB Scotland conservation manager, said to see butterflies in November seemed to be "very late".
He said: "The recent spate of unseasonable warm weather must have encouraged the red admirals to make one last sortie in search of nectar before hibernation.
"It seems strange to see redwings and red admirals on the same walk. But nature has a habit of throwing up surprises."