Rolls-Royce declines to comment on Vulcan future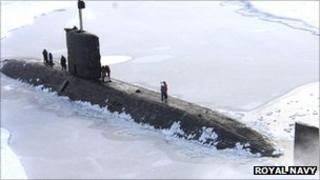 Rolls-Royce has declined to comment on the future of a submarine nuclear reactor test site in Scotland it has managed for almost 50 years.
The engineering giant operates the Ministry of Defence-owned Vulcan site at Dounreay in Caithness.
The MoD said on Wednesday that Vulcan could be scaled down, or closed and demolished after 2015.
Rolls-Royce said any comments on the facilities should be sought from the MoD.
It is understood the majority of the staff at Vulcan work for the defence contractor.
Rolls-Royce has designed, supplied and supported all the nuclear reactor systems and equipment that power the Royal Navy's nuclear submarine fleet.
It has managed Vulcan, which was built in the late 1950s, since 1964.
The site is a test bed for submarine reactors and technology and offers training to engineers.
In a statement on Wednesday, the MoD said computer modelling and confidence in new reactors meant testing at Vulcan in Caithness was no longer necessary.
The site sits on the civilian Dounreay experimental nuclear power complex, which is being demolished at a cost of £2.6bn.
Options being considered for Vulcan include putting it into "care and maintenance".
This would mean work could resume at the site in the future if necessary.
The other option would be to have Vulcan demolished along with the rest of Dounreay.
The MoD said the current series of tests at Vulcan end in 2015.
In 2005, the MoD estimated that it would cost £2.1bn to decommission Vulcan and decontaminate and deal with waste at the site.