Inverness woman jailed for false rape claim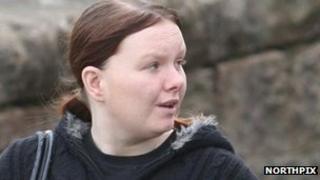 A woman who admitted making a false allegation of rape against a bus driver has been jailed for 18 months at Inverness Sheriff Court.
Charlene Kielty, 23, of Inverness, claimed she was attacked on a bus travelling from Grantown on Spey to Cromdale in August 2009.
The court heard that in October 2010 the results of forensic tests had shown no link between Kielty and the driver.
She admitted in December 2010 that she had made the story up.
Sheriff Ian Abercrombie said Kielty had "maintained this deception" for months and only now had the driver's name been cleared.
The sheriff said: "One cannot imagine the distress that you caused him and his family."
Depute fiscal Ian Smith told the court that Kielty had gone to Aviemore Health Centre on 23 August 2009 complaining of abdominal pains.
She told a doctor she had been raped four days earlier by a bus driver.
Mr Smith said: "The doctor arranged for her to be taken to Raigmore Hospital in Inverness where further tests were carried out.
"Swabs were taken and her clothing was sent away for examination."
The fiscal added: "Two officers interviewed her and she gave a description of her alleged assailant and suspicion fell on a bus driver.
"He attended Inverness police station voluntarily a day later and co-operated with the police fully.
"He admitted Kielty was on the bus but insisted nothing had happened. He consented to a forensic examination and swabs were taken from him."
Mr Smith said Kielty later made a second statement to police but there were differences in it to her first, including a different date and claiming to have taken a bus at a time when there was no service.
'Not capable'
The fiscal read a statement from the driver.
The statement said: "I was so shocked that this allegation was made against me.
"I was very upset because I am not capable of raping anyone.
"I co-operated full because I knew I was innocent. My partner, who was pregnant at the time and my parents believed me and fully supported me throughout.
"That has helped me get on with my life."
Defence solicitor Iain Innes said Kielty suffered from depression and had difficulty forming relationships.
He told the court: "Feeling unloved, at last someone was paying her attention and this appears to be the reason.
"It is a great shame for the man she accused, and no-one can feel anything but sympathy for him."