Trains to be prioritised in severe winter weather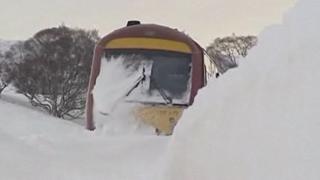 Network Rail and ScotRail will focus their efforts on keeping routes used by the highest number of people running if severe weather hits this winter.
The companies said cross-border links would also be a top priority during the worst conditions.
The plan is included in a £2m package of measures announced by ScotRail.
The UK's first "power shower" systems aim to remove snow from engines and coaches, and a new design of warmed plastic tunnels will de-ice the trains.
Staff on trains are to be given smartphones so they can be given instant updates on journey times and disruptions.
ScotRail said there would also be "significant improvements" to how people get travel information at stations, on platforms and on trains.
The company said prolonged freezing temperatures and snow could disrupt services.
It added that during severe weather, efforts would be concentrated on priority routes.
ScotRail said: "If severe weather strikes, it puts additional pressure on manpower and resources.
"Therefore Network Rail and ScotRail have agreed to give priority to keeping key rail routes open.
"Key routes are those used by the highest number of passengers and/or maintain cross-border links."
Rail users are being encouraged to get more details on the package of measures at roadshows which are being held until 25 November.
The roadshows will be held in Aberdeen, Ayr, Bathgate, Dundee, Edinburgh, Glasgow, Helensburgh, Inverkeithing, Inverness, Motherwell, Paisley, Perth and Stirling.
Transport Minister Keith Brown said the action had been welcomed by the Scottish government.
He said: "Thinking ahead and being prepared for winter at home, on transport networks and within local communities is something everyone can do easily.
"That is why we welcome ScotRail's efforts to place customer information and investment in service resilience at the forefront of their efforts.
"By keeping trains moving and providing better information, the rail industry can minimise disruption while getting people on the move as quickly as possible when it does occur."
Steve Montgomery, ScotRail's managing director, said: "Our investment and actions demonstrate a real commitment to our customers and the lessons of last winter. It's all about keeping customers informed and minimising disruption."
Last winter, ScotRail tried out wrapping trains in polythene to speed up de-icing when they were out of service.
The company said up to three tonnes of snow and ice could gather under trains during a day's work because the sub-zero temperatures meant the snow did not melt on contact with the undercarriages.
About 70 trains were damaged by frozen blocks of packed snow and ice falling from the undercarriages and then bouncing back upwards.
ScotRail said these trains had to be withdrawn from service until safety checks and repairs were carried out.
Defrosting alone could take six hours - within warm depots - before safety checks could be made on the undercarriage pipes, lines and other vital equipment.
Freestanding 75m-long (246ft) plastic tunnels have been designed for this winter where trains can be de-iced in "a controlled, warm environment".
ScotRail said the tunnels could defrost three carriages and its diesel engine in less than two hours.
So-called power showers to wash snow and ice off the underside of locomotives and coaches will also be used for the first time in the UK.
New-style shovels and snow ploughs have been issued to all staffed stations to help clear snow from platforms and walkways.
In April 2010, more than 100 rail passengers were stranded for more than seven hours when their train hit a snowdrift - then a rescue train also became stuck.
The first train became snowbound near Blackmount, between Carrbridge and Slochd, south of Inverness.
The second train was carrying food and blankets.
A third train was then sent out which the 107 passengers had to walk to in the dark through snow and high winds.
A snow plough had cleared the track to enable the third train to reach the scene.