Online avalanche training idea for mountain seminar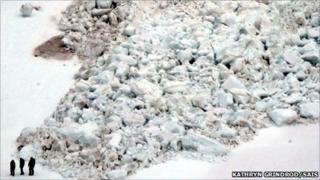 An idea to offer online training in avalanche awareness to walkers and climbers is to be discussed at an annual mountain seminar.
E-learning as part of wider training will be among topics for a workshop at the Snow and Avalanche Foundation of Scotland event later this month.
Also up for discussion will be the strengths and weaknesses of education on the risks available at the moment.
The seminar will be held in Edinburgh on 29-30 October.
Speakers during the event will include Stefan Harvey from Switzerland's WSL Institute for Snow and Avalanche Research.
He will deliver a lecture on the challenges faced by snow sports enthusiasts and climbers in the Swiss Alps.
Veteran climber John Allen, who served with the Cairngorm Mountain Rescue Team from 1971 until his retirement in 2007, will recount his experiences in hazardous winter conditions.
Mark Diggins, co-ordinator for the Sportscotland Avalanche Information Service (SAIS), professional climber Dave MacLeod and mountaineering instructor Ed Chard will also give talks.
Mr Diggins will look at how the assessment of avalanche risk in Scotland's hills has changed over the past 30 years.
He said instruction on avalanches was given to entrants on mountain leader courses.
However, he added that comprehensive and consistent training was not widely available in Scotland, but was in other countries, and online material could form part of a new educational package.
Mr Diggins said: "The online training would cover theory and would enhance what people would learn from going out into the hills and doing avalanche assessments.
"People could also reference back to any online material."
Mr Diggins said the seminar would also tackle behaviour that affects even experts' decision-making while on avalanche terrain.
He said the risk has not increased, but walkers and climbers were now more aware of the threat.
Another speaker, University of Sydney sports scientist Prof Mark Williams has carried out research funded by Nike, Umbro, Uefa, Fife and the English Cricket Board.
He will deliver a lecture on how people translate what they see in the environment around them into decisions.
Set up 10 years ago, the Snow and Avalanche Foundation of Scotland (SAFOS) promotes education and research on avalanches and snow conditions.
It advises Sportscotland on the role of the SAIS, which issues daily avalanche forecasts during winter months.
This year, it will start issuing reports for the 2011-12 season from 15 December.
Heavy rain
Avalanches in Scotland last winter included a slide in the Northern Cairngorms in April that generated huge amounts of debris.
The avalanche, off an area known as the Great Slab at Lochain, usually occurs in May.
Heavy rain, warm temperatures and high winds were suspected to have caused the early release of snow.
More than 170 avalanches were recorded by the SAIS last winter.