Prince Charles' group lists historic Caithness sites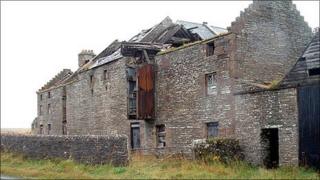 An organisation set up by the Duke of Rothesay has worked with one of Scotland's biggest house building firms on a historic properties project.
The North Highland Initiative (NHI) and Inverness-based Tulloch Group have produced an inventory of derelict buildings in Caithness.
Prince Charles launched NHI in 2005 and continues to promotes its work with communities in the far north.
NHI said the inventory could lead to restoration of historic sites.
Highlands and Islands Enterprise (HIE) was also involved in the pilot project which could eventually be rolled out to north Sutherland.
'Extreme risk'
Chartered architect and heritage consultant Andrew Wright identified 1,350 buildings and sites in Caithness for the new list.
Work has now started on trying to push forward with work to protect the sites.
Mr Wright said: "While this bears ample testimony to the richness of the historic environment of Caithness, it might be said that the figures from the audit give the clearest indication possible of the degree to which the built heritage of Caithness is at extreme risk."
He added: "It is now widely recognised that historic buildings have the potential to make a positive contribution to the regeneration of an area, and that they are possessed with abundant embodies energy within their construction.
"As a resource, they are irreplaceable."
NHI has also proposed working with Highland Council, Historic Scotland and the Scottish government on finding ways to protect and conserve sites.
Historic buildings in the county include imposing and ruined early 19th Century Castleton Mill.
It is one of only two examples of a double mill in Scotland, the other being Ayre Mill in Kirkwall.
Queen Mother
The Corr - the last inhabited thatched roof property in Caithness - is another site.
Earlier this year it was put on the market at a price of £200,000.
The home and its outbuildings were constructed in the late 1800s.
Prince Charles is a regular visitor to Caithness and stays at Castle of Mey, the late Queen Mother's residence in Scotland.
The Tulloch Group builds homes across Scotland and in England.
It has a head office in Inverness and an office in Glasgow.