Work to start on Dounreay low-level waste store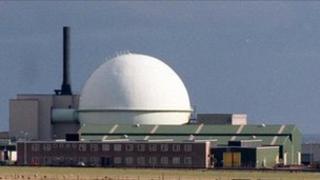 Work to construct a £100m store to hold low-level radioactive waste from Dounreay is due to start next month.
The dump at the former experimental nuclear power plant in Caithness will have six vaults, with the first vault expected to open in 2014.
Low-level rubbish includes paper, rags, tools, glass, concrete and clothing contaminated by radioactivity.
The demolition and clean-up of the Dounreay plant is expected to create 240,000 tonnes of such waste.
Rubbish will be put into metal drums which will then be reduced in size by a compactor.
Phases of the store's construction project will be tied into the release of money from a £4m fund set up by the Nuclear Decommissioning Authority for community and employment schemes over the next 10 years.
Dounreay Site Restoration Limited (DSRL) said contractor Graham Construction was scheduled to start work on the dump's first vault next month.
Highland Council approved plans for the store in 2009. It will be constructed on a former military airfield.
A large ancient burial cairn was uncovered at the site last year.
Archaeologists found no remains in the cairn or its central cist, suggesting the site was robbed of its artefacts in the past.
The cairn dated from about 4,000 years ago during the Bronze Age.
An archaeological survey was made of the area on the Caithness coast ahead of construction work on the store.
Meanwhile, DSRL has recorded 502 consecutive days without a lost-time accident - an injury that keeps someone off their work longer than three days.
The company said it was the equivalent to 4.79 million worker hours - the longest consecutive period the site has ever gone without a lost-time accident.