Pipistrelle bats confirmed at NTS Canna roost site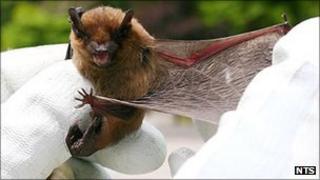 A bat roost on an island off Skye is believed to be the oldest at site owned by the National Trust for Scotland (NTS).
The trust said DNA analysis has confirmed the species on Canna as bandit pipistrelles.
Gaelic scholar John Lorne Campbell, who owned Canna before NTS took over its management, reported bats on the island in 1945.
His report is the trust's earliest record of bats across all of its sites.
More than 75% of NTS properties - which include 16 islands, 26 castles and 35 gardens - have bats.
The charity has also established Scotland's first dedicated bat reserve at Threave Estate in Dumfries and Galloway.
Trust preventive conservator Mel Houston said: "They have been active here for more than 60 years, entertaining both residents and visitors, but we did not know the species.
"Pipistrelles are amongst the smallest of Scotland's bats and they can get into tiny spaces - they're quite commonly found in attics across Scotland.
"Now we know where they are and what they are, we can make sure that they are not disturbed and that the items stored in the attic at Canna House can be properly protected."
There are two varieties of pipistrelles - bandit and soprano.
Bad summers
Earlier this month, new volunteers were sought by the Bat Conservation Trust (BCT) to take up training in how to care for injured and grounded bats.
A workshop on bat care will be offered at the Scottish Bat Workers Conference at Stirling University on 12 November.
Scottish BCT officer Anne Youngman said she hoped new volunteers would have the training they needed in time to deal with any casualties next year.
Bad summers have been blamed for rising numbers of stricken young bats.
In August, Ms Youngman said rain and cool temperatures were suspected to be the cause of bat deaths in part of Scotland earlier this year.
Eight juveniles were found dead at a large roost site at Doune, near Stirling.
Ms Youngman said to find so many dead was unusual.