Museums could bid for Ardnamurchan Viking finds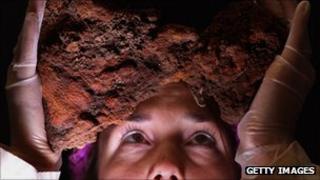 Museums will have the chance to bid to exhibit artefacts from the UK mainland's first fully intact Viking boat burial.
Archaeologists found the remains of a high-ranking warrior, along with a sword, axe and other items at Ardnamurchan in the Highlands.
Following analysis, the Crown is expected to eventually claim the objects on behalf of the nation.
Under treasure trove rules, museums could then apply to keep them.
The museums making the bids must be on an approved list, showing that they have a curator and appropriate facilities to care for the objects.
The artefacts are still being examined by experts at CFA Archaeology in Musselburgh.
A spokeswoman said it would be some time before they would be available for release.
Skye, Lochaber and Badenoch MSP Dave Thompson, whose constituency includes the Ardnamurchan, hopes they will return to the area for display.
He has submitted a motion to the Scottish Parliament congratulating the archaeologists who made the finds and also to back his call for them to be permanently exhibited at Ardnamurchan.
Drinking horn
The universities of Manchester, Leicester, Newcastle and Glasgow worked on, identified, or funded the excavation at the boat burial site.
Archaeology Scotland and CFA Archaeology have also been involved in the project which led to the finds.
The Ardnamurchan Viking was found buried with an axe, a sword with a decorated hilt, a spear, a shield boss and a bronze ring pin.
About 200 rivets - the remains of the boat he was laid in - were also found.
Previously, boat burials in such a condition have been excavated at sites on Orkney.
Until now mainland excavations were only partially successful and had been carried out before more careful and accurate methods were introduced.
Other finds in the 5m-long (16ft) grave in Ardnamurchan included a knife, what could be the tip of a bronze drinking horn, a whetstone from Norway, a ring pin from Ireland and Viking pottery.
Dozens of pieces of iron yet to be identified were also found at the site.