Gaelic TV channel BBC Alba attracts more viewers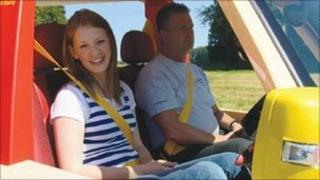 BBC Alba has reported that on average 530,000 adults now watch the Gaelic television channel each week.
Viewing figures rose after the channel became available on Freeview and Virgin Media Cable for the first time in June.
Before June, BBC Alba was watched by an average of 220,000 adult viewers each week.
The viewing figures are for Scotland only and do not include the rest of the UK, or under-16s who watch children's programmes on the channel.
BBC Alba said the average time viewers spent watching its programmes per week was one hour and 40 minutes.
Meanwhile, statistics covering January to September this year showed there was an average of 29,000 requests per week for BBC Alba content on iPlayer.
The channel is a partnership service between MG Alba and BBC Scotland.
Margaret Mary Murray, head of services for BBC Alba, said she was delighted with the latest viewing figures.
Alasdair Morrison, chairman of MG Alba, added: "The new viewing figures for BBC Alba over the first four months since being launched on Freeview are extremely encouraging, particularly since the summer is not regarded as a peak viewing time of the year for any television channel.
"However, it is still very much early days since the channel was launched on Freeview and the focus now is to continue to build on the channel's current success to maintain a high level of viewers."