Owner tells of alleged attack on dog in Lochcarron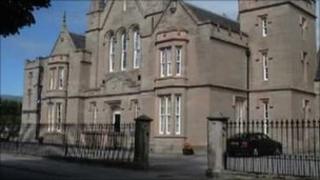 A man has told a court that his border collie was attacked by four German shepherds at Lochcarron, in Wester Ross.
Adam Ellis, 22, said he managed to beat the dogs away and rescue five-year-old Tess, who recovered from her injuries.
Andrew Hammond, 52, of no fixed address, has denied a series of charges alleging his dogs attacked Mr Ellis' pet and another dog that later died.
Mr Hammond has also denied claims he assaulted four police officers.
Mr Ellis said Tess needed stitches after receiving 30 cuts in the alleged incident on 19 August this year.
He told Dingwall Sheriff Court: "Tess was about two metres in front of me on an extended lead.
"A German shepherd jumped out and she just cowered. It then charged and was mauling and trying to kill her.
"It was the one dog that charged at her, but then all four dogs chased and attacked her, cornering her in a ditch."
Wooden stick
Mr Hammond has been accused under the Dangerous Dogs Act of owning three German shepherds which allegedly attacked and injured a Labrador at Lochcarron on 16 September so severely that it later died.
His dogs were also said to have bitten and injured the Labrador's owner.
The following day, at the council depot at Lochcarron where he was sleeping in a van with the dogs, Mr Hammond was alleged to have assaulted four police officers.
It was alleged he punched PC Emma Holgate on the head and struck constables Niall Maclean, Glenn Tucker and Iain Carr on the head with a wooden stick.
Mr Hammond has also been accused of owning three dogs which allegedly attacked and bit constables Maclean, Tucker and Chalmers, causing injury.
He was also alleged to have obstructed officers Tucker and Bryan Chalmers by locking himself in his vehicle, threatening that they would be attacked by his dogs and preventing his detention by the police.
Mr Hammond has also been accused of resisting arrest by violently struggling with two police officers.
He has denied all the charges. The trial continues.