London launch for Nairn firm's Carbon Black wheelchair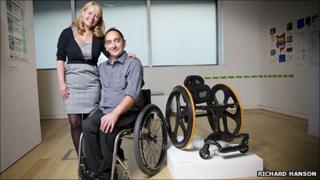 Badly injured armed forces personnel could be among the users of a new wheelchair designed by a husband and wife team in the Highlands.
Andrew and Mary Slorance, who run their firm I-Imagine in Nairn, will launch their Carbon Black chair at a mobility exhibition in London next week.
Highlands and Islands Enterprise (HIE) gave £49,700 towards its development.
Mr Slorance has been a wheelchair user for 28 years after a spinal injury when he was 14.
LED lights
HIE said injured servicemen and women could potentially be among the thousands of wheelchair users interested in using the Carbon Black.
LED lights have been fitted into the frame of the chair to resolve a problem of manoeuvring in darkness, a difficulty Mr Slorance has encountered in the past.
He said: "For many years I have thought the wheelchair could be so much better and so much more stylish.
"Three years ago I began the process of re-designing the wheelchair as we know it.
"I wanted Carbon Black to solve many of the problems I have faced with my conventional chairs over the years."
Mr Slorance added: "I want to empower its user with increased confidence from a chair that is cutting edge, yet minimal in its appearance - more person, less chair."