Pinhole leak in pipe sparked Dounreay nuclear alert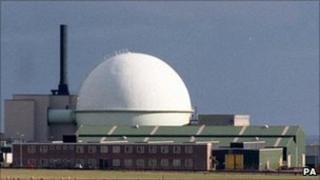 A pinhole breach of a pipe was responsible for the leak of radioactive fluid at the Dounreay nuclear plant, it has been confirmed.
The radioactive liquid effluent leaked inside a treatment facility at the former reactor in Caithness last week.
No radiation was released and no staff were at risk. Work to replace the pipe is hoped to be completed on Friday.
Dounreay Site Restoration Limited said it could rule out similar future leaks but it highlighted safety precautions.
The leak of radioactive caustic liquor came from a tiny hole in a pipeline being used to gradually empty the former fast breeder reactor in Dounreay's famous dome.
About a litre of fluid leaked out of a section of stainless steel pipe.
Safety systems
An investigation by the Scottish Environment Protection Agency has confirmed that it was all retained within a special containment area.
Operators in radiation suits have removed the faulty pipe and it is due to be replaced on Friday.
DSRL said it could not rule out future leaks but the firm highlighted built-in safety systems which are in place.
Dounreay is currently undergoing a £2.6bn decommissioning process.
Radioactive liquid effluent occurs when a reactor and its equipment are cleaned.
The treatment plant at Dounreay removes some radioactivity from the waste liquid as part of the process.