Man who raped runaway girl in Bragar on Lewis jailed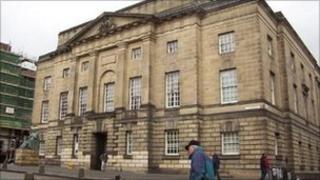 A man who admitted raping a teenage runaway after offering her shelter at his home has been jailed at the High Court in Edinburgh for six years.
The 15-year-old girl had arrived in Bragar, on Lewis, at night with a friend and went to Joseph Shaw's home because it still had its lights on.
They later left after the teenager's friend had become alarmed by Shaw's dirty appearance.
The 47-year-old admitted raping the girl on 25-26 February this year.
Shaw also pleaded guilty last month to indecency with a girl who was between 14 and 16 years old, simulating sex with a nine-year-old girl and exposing himself to an eight-year-old girl at a house in Inverkeithing, Fife.
The offences committed between December 2007 and February 2011 came to light as a result of the police investigation into the rape.
Lights on
Judge Lady Stacey told Shaw that he had taken advantage of a vulnerable girl in the Bragar incident and had breached her trust.
The judge ordered that he remain under supervision for six years after the end of his prison sentence.
The court had earlier heard that the 15-year-old girl and her friend had been drinking before arriving in Bragar.
Advocate depute Andrew Stewart QC, prosecuting, said it was not clear how they had ended up in Shaw's home, but one of the girls said it was the only house with lights on.
The girls asked if they could stay the night as there was no public transport out of the village at that time of night and Shaw agreed.
Mr Stewart said the 15-year-old was "falling asleep" as Shaw led her upstairs to a room with a sofa bed.
Shaw held the girl down with one arm and assaulted her.
'House un-nerving'
About 20 minutes later, the girl's friend became suspicious about Shaw being in the same room with her friend for so long and went to where they were.
Mr Stewart said: "She found the accused's dirty appearance and his dirty and bare house un-nerving."
The friend called the police but lied to Shaw, claiming her mother was coming to pick them up.
As they left the house, the 15-year-old began crying and said she had been raped.
A spokesman for Northern Constabulary said: "The extensive investigation into the rape allegations led to the other offences he had committed being detected.
"This was a joint investigation, carried out with colleagues at Fife Constabulary and assisted by our partners in social work and health."
He added: "We hope today's sentence provides some comfort to his victims who all displayed an incredible level of bravery and courage throughout our inquiries."