Oil industry criticises planned coastguard cuts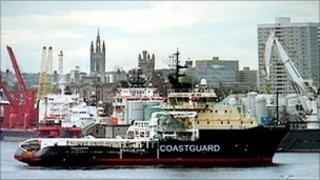 The oil and gas industry has claimed planned coastguard cuts could make it harder to respond to major emergencies.
Oil and Gas UK said UK government plans to downgrade Aberdeen's maritime rescue co-ordination centre would lose a rich body of local knowledge and experience.
It also said the withdrawal of emergency tugs would cut the capacity to respond to an offshore incident.
Scotland's two tugs are to be withdrawn at midnight, despite an intense campaign to save them.
One emergency tug has already left Stornoway and the other is due to leave Shetland shortly.
The UK government has said salvage operations were the responsibility of the commercial shipping industry.
However, campaigners had fought to keep the tugs in case of an oil spill or a tanker grounding.
This happened 18 years ago off Shetland and the tugs were used by the government.
The UK government also has plans to close eight coastguard stations, including two in Scotland, by 2015.
Although the Aberdeen centre would be retained under the proposals, the number of staff would be reduced.
The proposals are currently under consultation.
Local knowledge
Oil and Gas UK's health and safety manager, Bob Lauder, said: "Many years of constructive interaction between the oil and gas industry and the coastguard have established strong links and a rich body of local knowledge and experience in Aberdeen.
"Oil and Gas UK is therefore concerned about proposals to downgrade the Aberdeen Maritime Rescue Co-ordination Centre, as well as the cumulative impact of all the planned changes to maritime rescue services, including the immediate withdrawal of emergency towing vessels.
"In particular, the proposed staff reductions in Aberdeen raise concerns about whether the centre would have the capacity to respond effectively to a major offshore oil and gas incident."
The UK government has claimed the proposed overhaul of the service will help modernise the service and achieve efficiencies.
The Scottish government's Rural Affairs Secretary said the proposed cuts were being taken forward under the guise of modernisation, and would leave worrying gaps in service provision.
Payment challenge
Richard Lochhead said: "The loss of our emergency towing vessel today is of huge concern and could be back to haunt UK ministers, should a serious incident occur."
He added: "The experience and skills currently available at the Aberdeen MRCC cannot be replicated elsewhere in the UK and so it is crucial this centre remains fully staffed and the centre point for any response to an incident in the North Sea."
He described the UK government's approach to modernising coastguard services as "uncoordinated at best".
Oil and Gas UK later said it could not comment on a challenge from campaigners to pay for Scotland's emergency tugs.
The campaigners said oil and gas was a very rich industry and it could take over paying for the emergency vessels from the government.