Pure-bred Scottish wildcat hopes on male cat Fluffy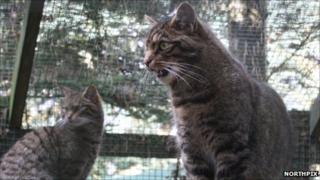 A wildcat that was hand-reared after being abandoned as a young kitten could play a part in raising more pure-bred members of the endangered species.
Fluffy has been paired up with an older female called Betty at the Highland Wildlife Park at Kincraig.
Disease, habitat loss and cross breeding with domestic cats has caused a decline in pure Scottish wildcats.
About 400 cats are believed to survive in the wild. Scientists have suggested cloning as way to protect numbers.
Two-year-old Fluffy and Betty, who is five, were introduced by keepers four weeks ago.
Animal collection manager Douglas Richardson said: "The early signs are fairly promising, with Fluffy trying to initiate play but at the same time he is very respectful of the older female.
"We are very hopeful that they will breed in the future."
He added: "Fluffy had a difficult start in life. He was abandoned as a five or six week old kitten and was partially hand-reared back to strength, but he is a bit on the small side."
The park already has an established pair of wildcats - Hamish and Suzie - who had two kittens in March.
Keepers have just named the latest additions to the wildcat family, taking inspiration from lochs in the local area.
The female kitten is named Alvie and the male is named Garton.
A scientist who was involved in cloning Dolly the sheep 15 years ago has started work on a new technique to clone wildcats.
Embryologist Dr Bill Ritchie said the project could help protect the species which is thought to number about 400 cats in the wild.
Midlothian-based Moredun Research Institute is involved.
The Royal Zoological Society of Scotland (RZSS), which owns the Highland Wildlife Park, has previously suggested cloning wildcats.