Technology conference to discuss St Kilda in 3D project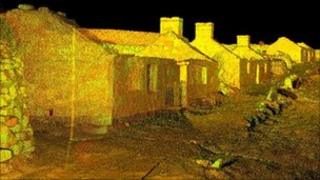 How technology could help protect fragile landscapes while at the same time giving greater public access to them will be discussed at a conference.
St Kilda, a remote archipelago which lies 41 miles (66km) west of the Western Isles, will be one of the areas tackled during the event in Edinburgh.
Ruins on the main island of Hirta were scanned this year to create 3D images, which are available to the public.
Speakers at November's conference will include a Unesco World Heritage chief.
Historic Scotland, National Trust for Scotland, British Geological Survey and the Scotland's Islands project are among organisations involved in the event.
Called I Know Where I'm Going: Remote Access to World Heritage Sites from St Kilda to Uluru, the conference will be held on 23-24 November.
It will explore how people could use technology to view remote and protected sites without having to visit them.
Presentations will be given on the use of smart phones for promoting archaeology and museums, and also Historic Scotland and Glasgow School of Art's work on creating the 3D images of Hirta's ruined buildings.
The St Kilda scans were made for a project called the Scottish Ten.
The project's team are recording all five of Scotland's Unesco World Heritage sites and five others around the world.
It is hoped the 3D images will aid the conservation and management of the sites.
In a separate project, survey work in a five-year project to produce the most complete mapping record of human occupation of St Kilda is nearing completion.
The Royal Commission on the Ancient and Historical Monuments of Scotland (RCAHMS) and National Trust for Scotland (NTS) have been working on the maps.
Conference speakers will include Dr Mechtild Rossler, chief of the policy and statutory section at the Unesco World Heritage Centre.
Dr Rossler will be introduced by Joanne Orr, chairwoman of the Scotland committee on the UK National Commission for Unesco.