Rock heat map shows Scotland's underground temperatures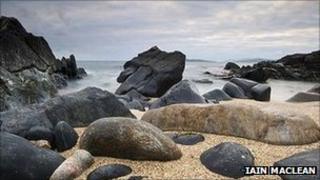 New information on likely temperatures below ground in Britain has been published by the British Geological Survey (BGS).
It could help guide efforts to use heat from the ground for generating renewable energy.
The heat maps show Scotland's rocks having some of the coolest temperatures and eastern and southern England having the hottest.
BGS scientists analysed temperatures from 100 to 1,000m down.
The research has been published in the Quarterly Journal of Engineering Geology and Hydrogeology.
Temperatures at some locations were found to rise from 13C at 100m to 38C at 1,000m, according to the BGS paper.
In Scotland, the warmest rocks were in Argyll, followed by north-east and central Scotland along with the Borders.
The coolest temperatures were recorded for the Highlands and the Western Isles.
BGS said lower temperatures were associated with thick sequences of older sandstones that were not overlain by geology called mudstones.
It said some of the highest temperatures at depth were linked to granitic rocks, such as found in Cornwall.