'Pristine' seabed effort off Dounreay 'could do harm'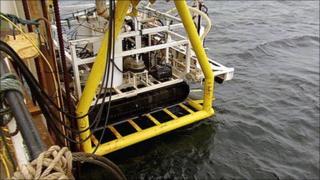 Returning contaminated seabed near a nuclear site to a "pristine condition" could do more harm than good, according an environmental watchdog.
Tiny radioactive particles were flushed into the sea through a liquid discharge pipe from Dounreay in the 1970s.
The Scottish Environment Protection Agency (Sepa) had recommended in 1998 that the seabed off the Caithness plant be cleared of all the pollution.
But its board has now conceded that this may not be achievable.
Board members have agreed with Sepa officers that not all the particles posed a risk to health and to recover all these could cause greater harm to the environment.
The environmental watchdog has asked that the clean-up continue where practically possible and be balanced against the risk of damaging habitats.
In a statement, Sepa said: "It is now widely accepted that a literal return to a pristine condition is a far from simple or even achievable concept.
Health risk
"Trying to achieve it might also cause more harm than good.
"There is the potential that ecosystems may be destroyed on trying to get to something which does not pose a significant hazard."
A transit van-sized remotely operated vehicle has been retrieving fragments of the irradiated nuclear fuel.
By the summer of this year 2,300 particles had been recovered from the seabed and beaches.
In July, Dounreay Site Restoration Limited (DSRL) reported that provisional tests suggested 38 out of 351 particles found in the latest sweep posed a significant health risk.
On another issue related to pollution, DSRL has been discussing with Sepa the possibility of significantly reducing the numbers of animals its tests.
Fish, crabs, lobsters and periwinkles are tested for potential radioactive contamination.
More than 22,000 marine animals a year are caught and killed to check species are not being harmed by discharges from the nuclear site in Caithness.
Vibration trials
DSRL said in March that new techniques and less discharges meant fewer need to be tested.
Sepa permits effluent cleaned up to the point of low-level radioactivity to be released into the sea, on condition that DSRL monitors marine life for any impact.
The environment agency also carries out its own studies on any effects from the discharges.
In 2009, 1,254 crabs, 130 lobsters, 190 fish and more than 21,000 periwinkles were caught and tested by DSRL.
Meanwhile, DSRL has warned that it would be conducting what it has described as vibration trials on Thursday at 13:00.
The test would involve a single explosion as part of work constructing a new store for low-level radioactive waste.