Dounreay to send nuclear waste to reactor in Belgium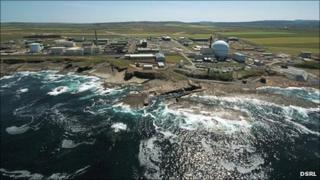 Nuclear waste is to be sent from Dounreay in Scotland to a reactor in Belgium.
The material will be shipped by sea as part of a long standing inter-government agreement signed when highly enriched nuclear fuel from all over the world was reprocessed at Dounreay.
More than 150 tonnes of intermediate level waste will be transported in 21 shipments over the next four years.
The material is bound for the state-owned BR2 reactor in Mols.
Dounreay Site Restoration Limited's Alex Anderson said the movements were part of its mission to decommission the site and to honour the "return to sender" commitment.
The return of several hundred tonnes of waste to customers in Australia and Germany is dependent on discussions taking place with the Scottish government.
Dounreay is in the process of being demolished.