Scottish Parliament recalls Arctic war convoys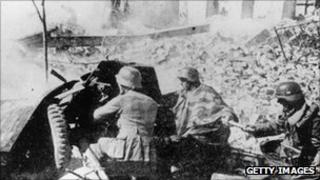 Tributes have been paid in the Scottish Parliament to surviving veterans of World War II's Arctic convoys.
From September 1941 to December 1944, Operation Dervish saw supply ships gather in Loch Ewe and on the Clyde before setting out to Russia.
More than 3,000 seamen lost their lives to the freezing conditions and attacks by German submarines and aircraft.
SNP MSP Rob Gibson secured a members debate which remembered and praised those who served on the convoys.
Last month, a ceremony was held at Loch Ewe in Wester Ross to mark the first sailing of merchant and Royal Navy vessels from Loch Ewe to Murmansk and Archangel.
Mr Gibson, MSP for Caithness, Sutherland and Ross, received cross party support for the debate.
Surviving convoy veterans were expected to attend.
Mr Gibson said the seamen have still not been properly recognised with a medal from the UK government.
A special emblem was issued to veterans in 2006.
'True courage'
Mr Gibson said: "It is important that the Scottish Parliament put on record their admiration and gratitude for what these shipmates did.
"It was journey of true courage in a hellish environment with threats all around from the Nazi war machine and horrendous weather.
"It will be humbling to have the veterans in the chamber."
A fundraising campaign has started for a new museum in the Highlands recalling the convoys.
Between 1941 and 1945, ships also left the Clyde and ports in Iceland for the then Soviet Union to deliver supplies, weapons and ammunition.
PQ17 was the most disastrous and infamous of the convoys.
In July 1942, more than 20 vessels were sunk following orders to scatter because of fears of an attack by warships including the Tirpitz.
Great Britain, the US and Canada were involved in shipping supplies to Russia.