Entries come in for new Highland apple map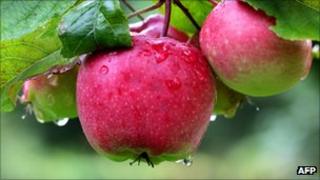 Fifteen sites have been discovered so far for a new map plotting the location of apple orchards in the Highlands.
One site - the Old Manse Walled Garden in Cromarty - grows 31 varieties of the fruit.
Highland Council biodiversity officer Jonathan Willet is putting the map together.
He has also sought sites where Coul Blush, the most northerly apple variety in Scotland, still grows. That variety was first grown in Ross-shire in 1827.
Mr Willet has received historical details on apple cultivation in the Highlands, as well as present day orchard sites.
According to information sent to him by members of the public, monks from France were the first to tend apple trees.
Valliscaulian Monks from Burgundy who set up monasteries in Beauly, Pluscarden and Archattan in 1230 were most likely those who brought cultivated apples to the Highlands.
It has also been suggested that Normans introduced apple trees to the region in the 12th Century, However, Mr Willet said there were no written records to support the theory.