Saltire Society Housing Design Awards list announced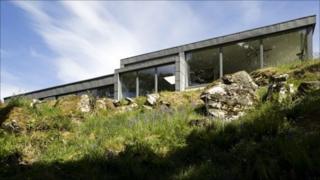 The shortlist has been announced for Scotland's oldest design awards scheme.
Architects and properties in Argyll, Edinburgh, Glasgow, Lochgilphead, Paisley, Peebleshire and Prestwick are in the running for honours.
The 2011 Saltire Society Housing Design Awards also has entries from the 2010 Scottish Housing Expo site at Milton of Leys, in Inverness.
Almost half of the short-listed schemes are affordable housing or regeneration initiatives.
A new prize was added for this year - the innovation in housing award.
The society's guest chairman, Malcolm Fraser, praised the quality and style of the entries.
He said: "Given the difficult times we are in, I'm encouraged to see that, alongside all the initiatives and good-practice partnerships, we see ongoing, good, simple, people-focussed architecture adding real value to homes and communities."
Categories of the awards, which were set up in 1937, were won by architect practices on Skye and in Perthshire and Aberdeen last year.
On the shortlist, with the architect in brackets, are:
Large scale housing development - Pearce Street, Govan, Glasgow (Austin-Smith: Lord); The Courtyard, Greendykes, Edinburgh (Austin-Smith: Lord); Hill Street, Charing Cross Phase 1, Glasgow (Austin-Smith: Lord); Trafalgar Court, Aboukir Street, Glasgow (DO-Architecture); Linwood Regeneration, Paisley (Collective Architecture), and Botany Phase 1, Maryhill, Glasgow (Elder and Cannon Architects).
Small scale housing development - The Passive House Terrace, Milton Leys, Inverness (HLM Architects), and Kingcase Housing, Observer Court, Prestwick (ARPL Architects).
Alterations, renovations and extensions - Lochgarry, 40 Cleveden Drive, Glasgow (Archial); Bath Street Window, Edinburgh (Konishi Gaffney Architects); Dean Cottage, Black Barony, Peeblesshire (ICOSIS Architects), and White House, Coll, Argyll (WT Architecture).
Private dwelling - new build - Craignish, Lochgilphead (Cameron Webster Architects), and The Secret Garden, Milton of Leys, Inverness (Rural Design).
Innovation in housing award - The Resonance Funding Model (Rettie & Co commissioned by Springfield Property Fund and Dunedin Canmore); ANABO (Andrew Stoane Architects); The Glasgow House (PRP Architects commissioned by GHA/City Building LLP).