Dave MacLeod and climber in Blamman free ascent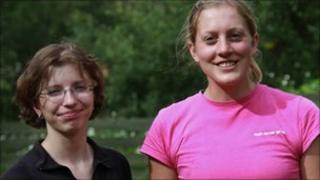 Professional Scots climber Dave MacLeod and a mountaineer who won selection to join him on an expedition have completed a new free climb in Norway.
Lochaber-based MacLeod and Julia Snihur, from Barcelona, scaled the 400m (1,312ft) Bongo Bar on the north face of the mountain Blamman.
Ms Snihur had demonstrated her climbing skills at Edinburgh International Climbing Centre at Ratho.
Mr MacLeod said Blamman could become one of Europe's most famous rock walls.
Helena Robinson, from Guernsey, was also successful in the selection process to join Mr MacLeod on the Gore-Tex Experience Tour New Routes in the Arctic challenge.
She attempted a different climb while the other two were making their first ascent.
Paul Diffley, of Hot Aches Productions, filmed the Bongo Bar attempt.
On Blamman, Mr MacLeod said: "I think in about 10 to 15 years time it is going to be the most famous big wall in Europe for hard free routes.
"The potential is just amazing."