Fort George near Inverness to mark links to Liverpool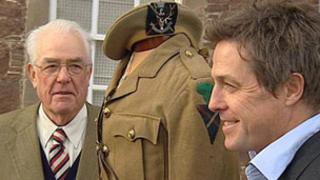 Liverpool's military links to the Highlands are to be remembered in a new museum display.
The museum at Fort George, near Inverness, is being upgraded a cost of £3.2m. So far £2.5m has been raised.
A donation of £1,500 covers the cost of a display dedicated to the Liverpool Scottish, which was raised to fight in the Second Boer War in 1900.
In 1937, it became a territorial battalion of the Cameron Highlanders, based in Inverness.
The Highlands Museum is dedicated to the Cameron Highlanders, Seaforth Highlanders, Queen's Own Highlanders and their affiliated regiments.
The Liverpool Scottish, whose soldiers wore the Forbes tartan and saw action during World War I, later became part of the Duke of Lancaster's Regiment.
Money for the display was donated by the Liverpool Scottish Regimental Trustees.
When first raised, the regiment recruited mainly from Scots living in the city.
The revamped museum at Fort George, a 1700s artillery fort which remains a working barracks, is scheduled to open in 2012.
Actor Hugh Grant launched the public appeal to help raise funds for the project in November 2010.
His grandfather Col James Murray Grant, from Inverness, received the Distinguished Service Order for bravery during World War II.
The Seaforth Highlander was depot commander at Fort George after the war.
Grant's father Capt James Murray Grant also served with a Highlands regiment.
'Safe keeping'
Museum chairman, Maj Gen Seymour Monro, said he was thrilled by the Liverpool Scottish support.
Col Ian Paterson, president of the Liverpool Scottish Regimental Association, added: "The Liverpool Scottish was an important and valued member of the regimental family in the Highlands for the major part of the 20th Century.
"As such it is appropriate that we support this splendid museum at Fort George and that we place here notable items reflecting that great history for display and safe keeping."