Tornado flies over 10 UHI sites in 60-minute tribute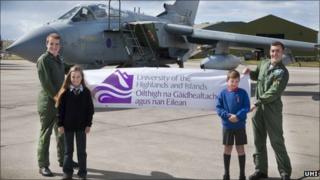 A Tornado GR4 jet has made fly-pasts of 10 University of the Highlands and Islands (UHI) sites across Scotland in less than 60 minutes.
The flight by an RAF Lossiemouth crew was part of celebrations formally marking the creation of the university.
Starting at 12:30 the jet flew over colleges in Moray, Inverness, Argyll, Lochaber, Skye, Shetland before flying back over the Highlands to its station.
The GR4 attack aircraft can reach speeds of about 950mph.
A further fly-past over Inverness during a procession is expected later.
The Tornado crew completed the first flight by 13:25 as part of a training sortie.
UHI has a network of colleges and centres in the Highlands, Western and Northern isles, Moray, Argyll and Perthshire.
A mace has also been made for the university.
The ceremonial staff made by silversmiths at Hamilton and Inches in Edinburgh will be unveiled during the later celebrations.
UHI said the design symbolised the landscape and natural elements of the Highlands and Islands.