Search for 'long lost' Highland apple Coul Blush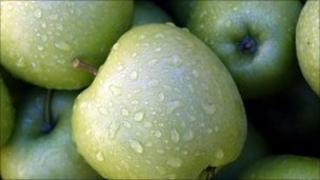 A search has started to find where what has been described as a "long lost" apple variety still grows in the north.
Highland Council's Jonathan Willet said the Coul Blush was the most northerly apple variety in Scotland.
The biodiversity officer is also putting together a map of apple trees and orchards in the Highlands ahead of international Apple Day in October.
Coul Blush were raised by Sir George Mackenzie at Coul House in Contin, Ross-shire, in 1827.
Mr Willet said: "This apple is a sweet dessert apple with a yellow skin.
"Are there any of these apples still found in the Highlands? We would like to know."
The new apple map would be drawn up using information on all varieties of the fruit in the region.
Polish troops
Mr Willet said: "Inverness and the surrounding area used to have many commercial orchards and market gardens until the 1950s.
"Many local estates also had orchards too.
"We are keen to create an apple map to locate where old orchards used to be and if the trees are still there."
An Apple Day event will be held at Inverness's Floral Hall on 22 October.
Coul House was built for Sir George, 7th Baronet of Coul, in 1821. It is now a hotel.
The aristrocrat's family had lived in the area since 1560 and according to the hotel's website Sir George was considered to have been a "liberal landlord, distinguished in the pursuits of science".
As well as its part in the raising Coul Blush apples, the house had an interesting role during World War II.
In 1940, it was taken over by the British Army to house Polish troops and serve as a military hospital.
The hotel said Norway's royal family were also have believed to have stayed at Coul House during their exile.