Eight earthquakes recorded in Lochailort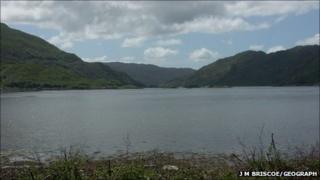 Five earthquakes were felt in the west Highlands during Sunday followed by the recording of three more in the early hours of Monday.
The British Geological Survey (BGS) recorded the first and largest, of 2.9 magnitude, at 08:37 at Lochailort.
Further smaller quakes were then recorded between 11:13 and 18:24. All were felt around Lochailort.
The BGS recorded three more between 00:43 and 03:15 on Monday but there were no reports of them being felt.
The weekend's events occurred in the Lochaber Geopark.
Park director Noel Williams said: "Most earthquakes in Lochaber occur as unweighting of the earth after the melting of the ice formed during the last glacial period some 12,000 years ago.
"The land effectively 'bounces back up again' a process Earth scientists term isostatic rebound."
The BGS said earthquakes were a common event in the west Highlands but added that to have five on the same day was "slightly unusual".
A spokesman said small earthquakes were more noticeable in quiet places and at a quiet time, such as a Sunday morning.
The most recent recorded quake in the area was on 30 July in Knoydart.
Earthquake swarms have also been recorded in Dumfrieshire and in parts of Perthshire.
In 2001, about 200 were recorded over a period of two to three months in Manchester.