Scots ministers back East Mingulay seabed designation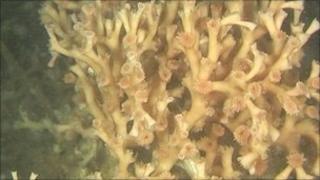 Scottish ministers have approved plans to designate an area of seabed off East Mingulay, in the Western Isles, as a Special Area of Conservation.
The European Commission will now be asked to place it among the European Union-wide Natura network of protected areas.
Ministers said the move would help protect a rare coral reef about eight miles (13km) out to sea.
The plan for the designation was put out for consultation in 2010.
Environment Minister Stewart Stevenson said the special area's proposed boundary had been "refined" following consultation.
The islands' SNP MSP Alasdair Allan said people on Barra, close to the seabed involved, had "clearly indicated their concerns" about the designation.
Worries had been raised about the impact on fishing.
Mr Allan said: "My constituents have expressed their opposition to both proposed designations, which come under the European habitats legislation.
"The campaign by people in Barra has, I hope, had an impact on some of what was announced today by the environment minister.
"Today's announcement indicates that the East Mingulay marine Special Area of Conservation will be 8% smaller than originally proposed."
The MSP added: "I would like to think that this reflects representations made by fishermen."
Mr Stevenson said East Mingulay was part of Scotland's unique natural environment.
He added: "Making fisheries management advice available at this stage provides more certainty to the local fishing industry regarding both proposals, while also making clear that creel fishing can continue in the Sound of Barra to help ensure that the local communities continue to derive economic value from the area."