SNP MP Angus MacNeil joins guga hunters on outward trip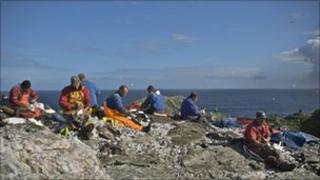 An MP has said a traditional annual harvest of young gannet criticised by an animal welfare charity has "legendary status".
Angus MacNeil will join 10 men from Ness on the Western Isles on the outward voyage to the small island of Sula Sgeir for this year's hunt.
The Scottish SPCA has described the method used to kill the birds - a blow to the head - as cruel.
Scottish Natural Heritage (SNH) has said the guga hunt was sustainable.
The Scottish government agency has also said it would review the harvest as part of a wider assessment of its licensing functions.
Mr MacNeil, SNP MP for the Western Isles, said the hunt was similar to activities on Iceland and the Faroes that perhaps started at the time of the Vikings.
He said he was privileged to be asked to accompany the men on their trip out to Sula Sgeir, about 40 miles (64km) north of Ness.
Mr MacNeil will return to Ness, leaving the hunters to their 10-day expedition.
The MP said: "This activity has tremendous support the entire length of the Outer Hebrides.
"Last week I was stopped by a man in his eighties from Vatersay, the most southerly inhabited island of the Outer Hebrides, who wanted to tell me how much he supported the natural environmentalist that are the guga hunters."
He added: "This is an activity which has attained legendary status in the Outer Hebrides, it has been going on for generations and we hope that it will continue for generations to come.
"I will be returning with the boat that is leaving the guga hunters on Sula Sgeir.
"I feel very fortunate to be a small part of this year's expedition, despite the 14-hour round trip."
Earlier this week, hunt leader John MacFarlane said grouse shooting caused birds greater suffering but the SSPCA was not calling for shoots to be banned.
Ch Supt Mike Flynn said the charity did not have an issue with the eating of gannets but was concerned by the manner the birds were killed.