Western Isles guga hunt leader hits back at SSPCA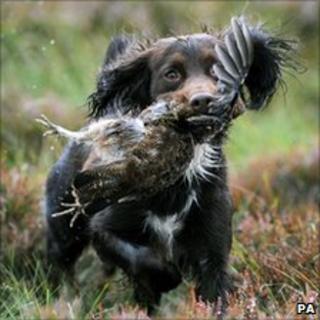 The leader of an annual hunt for young seabirds on the Western Isles has hit back at an animal welfare charity's criticism of it.
About 2,000 gannet chicks are taken from the island of Sula Sgeir, north of Lewis, to be eaten as a delicacy.
The Scottish SPCA has said the method used to kill the birds was cruel.
Hunt leader John MacFarlane said grouse shooting caused birds greater suffering but the SSPCA was not calling for shoots to be banned.
The harvest of gannets on Sula Sgeir is Scotland's surviving guga hunt.
It is permitted under the Wildlife and Countryside Act.
Sula Sgeir has about 9,000 to 10,000 pairs of gannets, according to Scottish Natural Heritage (SNH). The government agency said the hunt was sustainable.
Mr MacFarlane said the birds taken were dead within two to three seconds of being caught and struck on the head and the SSPCA chief superintendent Mike Flynn's criticism of the hunt last week had been unfair.
He said: "Rich people can go and shoot and maim birds and deer and nobody says a word about them. Why?
"Mr Flynn does not have anything to say about that because he is scared of the rich and famous. To justify his job he picks on the poor."
Mr Flynn said the SSPCA did not have an issue with the eating of gannets but was concerned by the manner the birds were killed.
He said: "If the hunters could come up with a humane method a veterinary surgeon says will kill them guaranteed first time we wouldn't object to that."
Mr Flynn said the guga hunt "could not be equated to somebody who knows what they are doing with a firearm".
He said that if anyone was proved to be using the same methods anywhere other than Sula Sgeir they would be prosecuted.
The SSPCA officer added: "Laws should not be altered on the grounds of tradition."