Thurso Bay and Pentland Firth in planned UHI sea study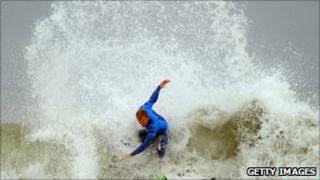 The setting for an international surfing competition has been suggested as the perfect laboratory for a new study of Scotland's seas.
Thurso Bay in Caithness hosts a stage of the O'Neill Coldwater Classic.
Highlands-based scientists suggest water from the bay and Pentland Firth could be sampled to better understand a micro layer on the surface of the sea.
The thin layer plays a role in the life cycles of marine creatures and the forming of harmful algal blooms.
The new University of the Highlands and Islands (UHI) is offering a postgraduate studentship in the research.
Supervised by scientists from North Highland College's Environmental Research Institute and the University of Plymouth, the study of surface active substances (SAS) would be the first of its kind in Scotland.
Oban's Scottish Association for Marine Science would also be involved.
Synthetic oils
UHI said natural material such as fish eggs, larvae and soil and man-made pollution on the surface of the sea had implications for Scotland's fisheries.
It said the results of the research could provide important data for the shellfish and fish farming sector.
The total output of the fish farming industry was estimated to be about £434m a year, according to the Scottish government.
UHI said kayakers and surfers could also be exposed to contaminants in the water, such as synthetic oils and detergents.
Surfing is important to the Caithness economy.
The university said this year's Coldwater Classic competition drew about 4,400 tourists, £440,000 to the local economy and £420,000 to the rest of Scotland.
UHI said Thurso Bay and the Pentland Firth around the Isle of Stroma were ideal for the research.
'Global warming'
It said: "The inshore waters of North Scotland will be an excellent model laboratory as they encompass open North Atlantic surface waters, open North Sea waters and waters of freshwater influence.
"The north Highland region is about to experience rapid changes associated with global warming, peatland habitat restoration and land and seabed management activities, all of which may influence the SAS signature of the coastal zone."
Scientists heading the research said the work could lead to Scotland's inshore waters being classified based on their SAS signatures.
The postgraduate studentship is one of 12 UHI has offered in the research of energy, environment and health.
Others looking at energy include studies of how wave power farms might affect the natural movements of the sea and sediment and also methane gas released by seaweed and fish waste.