Return to Highlands' Inchindown secret tunnels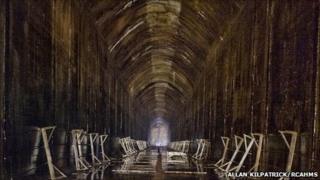 Guided tours through an underground fuel depot constructed during World War II are being offered following the success of events held two years ago.
Inchindown oil storage tanks were dug into a hillside near Invergordon in Ross-shire to conceal and protect them from enemy attack.
Places on the first public tours in 2009 were booked out within 90 minutes.
Plans in 1988 to upgrade the depot for use by Nato were later abandoned and the site was closed by 2002.
Hidden inside Kinrive Hill on private land, the site is only accessible through organised tours.
Forestry Commission Scotland (FCS) is taking bookings for the new walks on 21-22 September.
FCS staff and Allan Kilpatrick, of the Royal Commission on Ancient and Historic Monuments of Scotland (RCAHMS), will lead the tours.
They are being held as part of the International Year of Forests 2011.
Groups of 12 people at a time will be led into the tunnels. They will be equipped with hard hats and high visibility jackets, but must bring their own torches and wear sturdy footwear.
Following the 2009 events, Mr Kilpatrick said all those who went inside the depot were in awe of its size.
He described the tunnel system as an impressive work of engineering.
Inchindown was constructed amid British military concerns about the strengthening of Germany's armed forces during the 1930s.
Work started on the depot in 1938 and in the early stages of construction many of the workers were local men with experience of building hydro-electric schemes.
Mr Kilpatrick said: "The scale of the project was immense, the largest single construction in the Highlands since the Caledonian Canal, and certainly the largest underground excavation until the Ben Cruachan pump storage hydro scheme in the 1960s.
"The tanks themselves were vast caverns, a long single space, concrete-lined and with an arched roof.
"The concrete lining to the tanks was 45cm thick."
Inchindown was completed in 1941. Its six tanks could hold 32 million gallons of fuel.
Mr Kilpatrick said the tanks were reportedly at full capacity during the Falklands War in 1982.
After the conflict, the depot was run down and later underwent decommissioning after plans to upgrade the site were dropped.
Nearby Invergordon was key Royal Navy anchorage before and during the world wars.
Remains of defences can still be seen on the surrounding coastline.
The RCAHMS has also recorded evidence of training trenches dug by marines close to Invergordon during World War I.