Pike angler from Fife saves osprey on Strathspey loch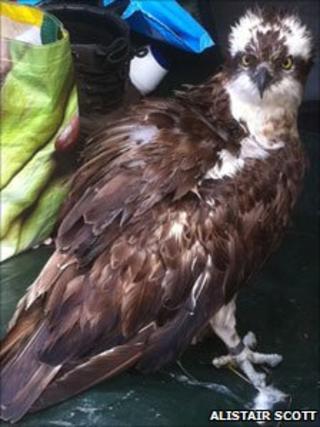 An angler trying to catch pike at a Highland loch went to the aid of a bird of prey that had become tangled up in his fishing line.
Alistair Scott, of Kennoway, in Fife, woke early on the final morning of his family's camping trip to Loch Insh to find his line had run out.
He found an osprey in reeds nearby. It was caught in his line and was shaking with the cold.
After warming up beside a stove the raptor flew off.
Mr Scott and his family were camping at the loch, near Kincraig, in Strathspey.
He said: "It must have been in the water for some time, its wings were entangled and it was physically shaking with the cold.
"After calling RSPB Scotland and the Scottish SPCA for help, we were told an Scottish SPCA inspector was en route but would take a couple of hours to arrive.
"As the bird was clearly very cold, we cut the line and untangled it, wrapped it up in a woolly jacket, placed it a safe distance in front of a small camping stove in the porch of our tent and left it there to warm up."
Mr Scott added: "Later when I checked, the osprey was actually standing in the tent, flexing its wings in front of the stove, almost as if it was drying itself.
"A short time later it emerged from the tent and flew off as if nothing had happened."