Western Isles sub-sea cable 'could affect' mud life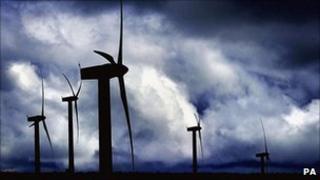 A proposed sub-sea power cable between the Western Isles and mainland Scotland could affect wildlife on the seabed off Ullapool, according to scientists.
The cable would allow the isles to export electricity from renewable energy schemes to the National Grid.
Marine biologists at Edinburgh's Heriot-Watt University report the cable could cross deep water mud habitats.
They have recommended further research into the potential impact of the planned interconnector.
Small burrowing animals and also areas where an invertebrate called "feather stars" live could be affected, according to the report commissioned by Scottish Natural Heritage (SNH).
The sub-sea cable would go from Lewis, cross the sea into Little Loch Broom on the west Highlands coast and land at Dundonnel, near Ullapool.
It would allow electricity generated by wind farms and marine energy schemes that was surplus to the islands' needs to be exported to the mainland.
Scottish Hydro-Electric Transmission Limited (SHETL), a subsidiary of Scottish and Southern Energy (SSE), put plans for the interconnector on hold last year.
'Remains active'
The report by Heriot-Watt's School of Life Sciences said what impact the cable could have on seabed habitats could not be better understood until a precise route for it was known.
However, they said it was possible deep water mud habitats could be affected.
Little Loch Broom also has a bed of the coral-like algae maerl, but the scientists said it was unlikely to be significantly affected beyond a certain depth.
SSE said SHETL deferred the start of work on the cable in October 2010 saying its cost must be underwritten by developers.
A spokeswoman said: "The project remains active and SSE will prepare a new request for authorisation to invest in the link as soon as these issues are resolved.
"In practice, this is likely to take around one year.
"At this stage we would reassess any additional environmental information."