New guidance on protecting Cairngorms soils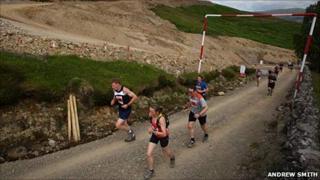 New guidance has set out how soils storing thousands of tonnes of carbon in the Cairngorms National Park should be protected from development.
It bans any new commercial peat extraction and covers the building of hill tracks.
The Cairngorms has "unusually large" areas of rare and undisturbed soils, according to the park authority (CNPA) planning document.
Moorlands and peatlands also cover more than half of the park.
The CNPA's planning committee will be asked to formally adopt the guidance at a meeting in Ballater on Friday.
The document was written following public consultation on a draft version.
It deals with carbon sinks and carbon stores.
Carbon sinks include healthy peatlands and stores include ancient geological formations, according to the guidance.
In the document, the park authority said: "The national park is exceptional because of its unusually large extent of rare, undisturbed soils compared to other areas of Scotland.
"However, these soils are particularly vulnerable."
The planning committee will also consider a proposal to extract stone for use in the building of a track needed in the construction of the Beauly to Denny powerline.
Record mammals
Scottish Hydro Electric Transmission Limited (Shetl) want to open up what is known as a borrow pit on land south of the A86 at Strathmashie, near Kinlochlaggan, on the Ben Alder Estate.
Stone already lies stockpiled at the site from the dredging of the nearby River Mashie.
Shetl said the dredging was done to provide material for the building of a hydro scheme.
CNPA officers have recommended the committee approve the application subject to conditions.
The planning conditions include that any work avoid the bird nesting season and a survey be done to record mammals in the area.
Tracks to allow construction vehicles and contractors to reach sites for new electricity towers on the upgraded Beauly to Denny line have already been created at locations such as the Corrieyairack Pass.