Mesolithic 'rest stop' found at new Sainsbury's site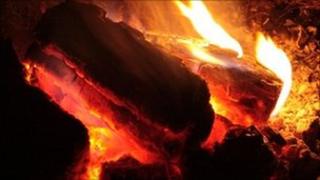 Archaeologists believe the remains of burned oak uncovered at the site of the first Sainsbury's in the Highlands to be evidence of an ancient "rest stop".
The supermarket and a filling station are being constructed on the outskirts of Nairn, at a cost of about £20m.
Headland Archaeologists investigated the site ahead of building work.
They radiocarbon-dated the hearth to the Mesolithic period, which started as the last Ice Age ended about 12,000 years ago.
In a report published on Highland Council's Historic Environment Record site, the archaeologists said the fire appeared to have been made to provide heat and not cooking, because no food waste was found.
They added: "The dating of a feature from charcoal is problematic since the wood that was being burned may have been felled a long time before it was used.
"Activity in the area during the Mesolithic period is known from the discovery of a number of small flint tools along the Culbin Sands in Nairn.
"The lack of any other Mesolithic dating on the site suggests that there was no settlement in the area, and that instead the hearth represents a temporary rest stop."
Massive tsunami
Nomadic hunter-gatherers may have been attracted to nearby Culbin Sands because of its woodland wildlife, or to fish along its shoreline, according Forestry Commission Scotland (FCS). FCS manage forestry in the area.
During the Mesolithic period, Britain was transformed from a peninsula to an island.
It is thought that landslides in Norway - the Storegga Slides - triggered a massive tsunami when a landlocked sea burst its banks.
The water struck the north-east of Britain with such force it travelled 25 miles (40km) inland, covering low-lying plains in water or turning it into marshlands.
Cremation pits
Sainsbury's is not the first supermarket chain to have ancient history uncovered at its building sites.
A Bronze Age burial site was found at the location of the first Asda supermarket in the Highlands.
Archaeologists recorded an area of cremation pits surrounded by a ring ditch at Slackbuie, in Inverness.
Almost 2,000 flints were also recovered from the field on the city's distributor road where the store is being constructed.
Pieces of Neolithic pottery known as Unstan Ware were also discovered during digs led by Edinburgh-based NG Archaeology Services.