Golf's Scottish Open downpour 'bad luck', says scientist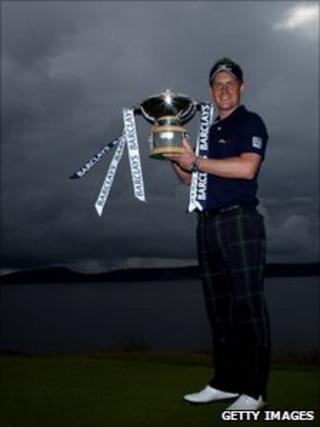 Rain that wiped out play in golf's Scottish Open was bad luck and unlikely to happen again over the course that hosted it, a scientist has said.
Prof John McClatchey said the new links course at Castle Stuart, near Inverness, was in one of the driest parts of Scotland.
But on Saturday it was affected by a slow-moving weather system.
The Open's organisers, the European Tour, said the area had double its average monthly rainfall in one day.
Torrential downpours caused flooding and a landslip.
The washout led to the tournament being cut from 72 to 54 holes.
World number one Luke Donald won the event after play resumed on Sunday.
Castle Stuart, on the shores of the Moray Firth, will host the Scottish Open again in 2012 and 2013.
Prof McClatchey researches climate at North Highland College UHI's Environmental Research Institute (ERI) in Thurso, which is part of the University of the Highlands and Islands.
He said a slow-moving weather system brought heavy rain to the Highlands course and the nearby surrounding area.
"What happened on Saturday at the Scottish Open was unfortunate," said Prof McClatchey.
"Unfortunately, if they are slow moving, then where it occurs will tend to get a lot of heavy rainfall and because of the slow-moving system that heavy rainfall will be prolonged.
"One of the interesting things is that if you went further along the coast towards Nairn, or west of Inverness, you would have found that it was much drier.
"This was quite a narrow system that was probably only a few miles wide and perhaps about 10 miles in length, but was just sitting over Castle Stuart."
He added: "Basically, it was just bad luck.
"If the golf course had been further east they would have been fine so I really feel sorry for them. But it is not something you would predict will happen again, at least not at Castle Stuart."
According to Met Office data, average rainfall figures for July at Nairn - a former Victorian seaside resort dubbed the Bright of the North at that time - include lows of 10.4mm and 20.1mm to highs of 121.9mm and 131.7mm during the last 10 years.
By contrast, rainfall for Dunstaffnage, in Argyll, on the west coast, in the same month and over the same period ranged from 48mm and 61.8mm to 124.2mm and 177.2mm.
Prof McClatchey pointed to recordings made at Kinloss further along the Moray Firth coast from Nairn to illustrate how dry the Moray Firth coast could be.
He said: "If you look at Kinloss the annual average precipitation is just over 620mm. If you went to Paisley it's twice that. If you went to Kinlochewe on the west coast it is nearly four times that amount.
"The Moray Firth is a dry area of Scotland and has rainfall typical of the Midlands and east of England, for example near Nottingham or Northampton, so it is not a heavy rainfall area at all.
"In fact it is protected from some of the typical heavy rainfall that we get in Scotland by the large area of mountains to the west.
"So the Moray Firth would normally expect to be a fairly dry region and what happened on Saturday was unexpected."
In forecasting the UK's weather, predicting precisely where thunderstorms will hit can be problematic, the scientist said.
Prof McClatchey said: "As far as the UK is concerned we have to look at the whole of the north east Atlantic out from the coast of Norway to the south west of France in terms of our major weather systems, so thunderstorms are very small features in that very large region.
"Hence, although the possibility of thunderstorms can be forecast, forecasting exactly where they will occur is not really possible."
Castle Stuart and local authority staff have been praised for their efforts dealing with the aftermath of Saturday's storm.
Highland Council convener Sandy Park said: "After a great start on Wednesday and Thursday when we saw the course and the surrounding countryside at its best, it was such a great pity to experience the heaviest rain we have seen for some considerable time.
"What a downpour."
He added: "The council played its part in trying to clear the course of flood water and debris and my thanks go to our staff for their efforts, which helped greatly in ensuring that play was possible on Sunday."
Highlands and Islands Airports Limited (Hial) has also been thanked for providing an area of disused runway at nearby Inverness Airport for car parking.