University of Highlands and Islands aiming to cut CO2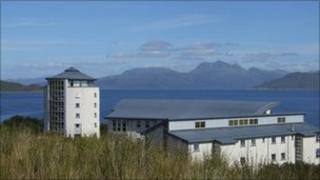 Scotland's newest university has sought ways of reducing its carbon footprint over the next few years.
The University of the Highlands and Islands (UHI) is made up of a network of colleges and research centres.
They hope to reduce harmful emissions and make financial savings through car-sharing, increased use of energy-efficient lighting and biomass boilers.
Sabhal Mor Ostaig UHI on Skye aims to achieve savings of £160,000 by the end of 2014.
Inverness College has set a target of £96,000-worth of savings, by 2015.
The NAFC Marine Centre UHI on Shetland also has a five-year plan to cut carbon emissions by 20%.
Donald MacLennan, of Gaelic college Sabhal Mor Ostaig, said: "Reducing our carbon emissions is a natural follow-on to recent initiatives undertaken by the college which have included the installation of a 500kw biomass woodchip boiler and a compost recycling scheme.
"Our carbon management plan has at its heart a carbon reduction awareness campaign among college students and staff.
"We are also going to conduct a detailed energy audit of all our buildings with anticipated enhancements to include low-energy and motion sensitive lighting and the installation of a solar thermal system."