Bad weather suspends golf's Scottish Open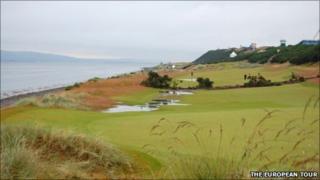 Saturday's play at the Scottish Open golf has been abandoned after a storm, a landslip and continuing bad weather.
A torrential downpour caused flooding on the Castle Stuart links course on the Moray Firth coast, near Inverness.
Organisers The European Tour initially said play would be pushed back until at least 1900 BST, but later decided against it.
The 78 golfers taking part will now play three rounds instead of four, teeing off from 0700 BST on Sunday.
More showers are forecast on Sunday, with an isolated thunderstorm possible overnight.
Organisers said there will be no public parking at the site on Sunday.
Spectators have been advised to use a park and ride service running from Inverness Airport from 0700 to 1900 BST or take a shuttle bus from the city's bus station.
Earlier on Saturday, conditions were so bad that spectators were not even being given access to the site while officials assessed the situation.
The weather also caused power cuts at the links course.
Trees had to be cleared from the first fairway after coming down in the early hours of Saturday.
Course manager Chris Haspell told the BBC he had never seen anything like it on any course in his 25 years in the business.
He said: "It is slightly disconcerting this morning but we are working as hard as we can to try and get things moving along.
"When I got in about 3.30 this morning I drove the course and everything was looking good for a good day's play.
"Then the thunder started and all hell broke loose, so to speak."
He added: "It's not the best start but we take things in our stride and the team are doing a fantastic job."
Mike Stewart, the tournament director, said: "Clearly there is a huge amount of work going on at the moment and we are optimistic that we can get some golf in later.
"We are all gutted about what's happened. It's unprecedented. But we have got to try and get things repaired and hopefully get back on track."
There is an option to continue the event on Monday, but that depends on the conditions, the forecast and how much golf is left to be played.
Many of the players are involved in The Open in Kent next week and a charter plane for about 30 of them has been arranged, but when it leaves has yet to be determined.