Glasgow-based Loganair buys Cambridge charter Suckling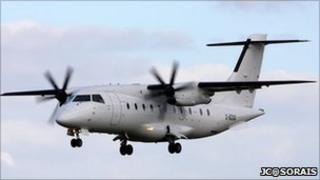 Glasgow-based airline Loganair is taking over Cambridge charter specialist Suckling Airways.
Suckling's five Dornier 328-100 aircraft are chartered by sports teams, political parties and businesses.
The planes can seat up to 32 passengers and have been flown all over Europe. Suckling has a base in Dundee.
Loganair fly routes between Glasgow and the Scottish islands. It said the deal would be fully completed by the end of this month.
Until 2007, Suckling operated scheduled services from Dundee and from Edinburgh to London trading as ScotAirways.
The company has operating and engineering bases at Cambridge, Dundee and London and employs a total of 60 staff.
'Exciting business'
Loganair said no job losses were anticipated, but the two organisations would work together to find cost savings through joint purchasing of fuel, insurance and ground handling.
Scott Grier, Loganair's chairman, said it marked a major acquisition for the Scottish company.
He added: "Today's announcement brings a new, yet mature, revenue stream from specialist charter flights into the company.
"We look forward to working with Mrs Merlyn Suckling and her team to develop its exciting business over the coming months and years whilst we continue to grow Loganair's own operations as and when opportunities arise."
'Same ethos'
Loganair was founded in 1962 and operates a fleet of 20 aircraft and employs 440 staff throughout Scotland.
Mrs Suckling said she was delighted that the company she founded in 1986 was moving to a new chapter of its development.
She said: "Next year, Loganair will celebrate 50 years of airline operations, which is a truly magnificent record of service.
"As a UK regional operator, we have enjoyed working alongside Loganair for many years, and we know we share the same ethos for providing an excellent customer experience. We are looking forward to joining them in this new venture."