Interest in guns 'increasing' in Scotland says gunsmith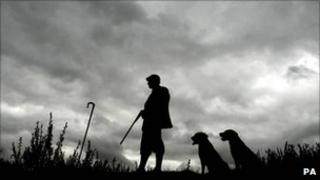 Interest in the legal use of firearms is on the rise in Scotland, according to a BBC Alba documentary.
Trusadh: Gunnaichean ann an Alba - Guns in Scotland - examines the various roles of guns in Scottish society.
Edinburgh gunsmith Gary MacPherson said new people were taking up shooting and an interest in owning guns costing up to £50,000.
The documentary will report that there were about 75,000 firearms certificates recorded in Scotland.
Guns in Scotland explores the debate over gun use and their role in generating income for the Scottish economy through grouse and deer shoots on sporting estates.
Non-traditional seasonal activities such as clay pigeon shooting have also been on the increase, the documentary's makers Mac TV found.
Mr MacPherson, told the programme: "Shooting is on the increase.
"You are getting new people coming into shooting. Its new blood coming in which we need to keep the pastime and the heritage going.
"When you are spending these big figures of 40-50k on a gun you are getting to pick the engraving and wood quality and it feels more personal to you."
Dunkeld-based gunsmith, Mark Frearson, makes and restores hand-crafted guns for collectors worldwide and has two apprentices working with him.
He said: "About 1,000 man hours goes into each gun.
"At the moment we are building guns full stop because we believe that the top end of the market will always have people with disposable income."
'Bit uncomfortable'
Fay MacRae, of Skye Clay Target Club, also features in the documentary and learned to shoot by firing an air rifle at tin cans, lemonade bottles and pumpkins.
She said: "It wasn't until my 20s when I thought I would give this clay business a shot.
"For the first wee while I felt a bit uncomfortable because you are brought up that it's not really the women's role to be doing guns, it's the man's role but the guys here make you feel relaxed and welcome.
"Publicly I think it's not really seen to be a women's sport but it's the only sport that men and women are equal in, I don't think people realise that."
Guns in Scotland' will be broadcast on BBC Alba on 11 July at 2100 BST.