Young women flock to Highlands sheep shearing class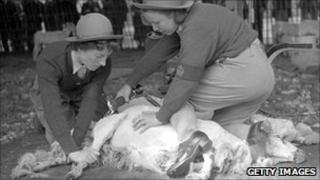 Women have made up almost half of the students on a sheep shearing course held to encourage more young people to become qualified shearers.
The basic training - one of four levels new shearers can progress through - has been taking place in Strathnairn, near Inverness.
Four women and six men have been learning to shear sheep.
The course's costs were paid for with money from a community benefit fund which wind farm operators pay into.
Course organiser Kenny Matheson said he set up the training following interest from farmers' daughters and their friends.
Shortages of trained shearers in Scotland have been a concern in recent years.
The workforce is ageing, with fewer young people entering what is considered one of the most labour-intensive jobs in farming.
In 2008, the Scottish Shearing Association put together initiatives in an attempt to lure new blood to the trade.
Mr Matheson said a healthy interest in the skill has been shown in Strathnairn and was also evident in other rural areas across Scotland.
He said: "Every year the Strathnairn farmers hold a sheep shearing competition.
"Towards the end of the evening last year there was a whole lot of youngsters wanting a shot - farmers' daughters and their friends.
"I said to them that if I put together a beginner's sheep shearing class would they be interested and they said they were."
The Wool Marketing Board course costs £168 per student, but Mr Matheson managed to secure support from a community fund.
One of the female trainee shearers, Andrea MacQueen, said she hoped that knowing the basics would allow her to help out more on her parents' farm.
She said some of the women on the course worked on farms or livestock marts.
Miss MacQueen said: "We've grown up going to the shearing competition and we all want a shot."
She added: "All the lassies who wanted to get on the course got on it."
In 2008, the Scottish Shearing Association said that a fall in numbers of shearers had been gradual over the previous 10 years.
It described the 2007 wool cheque - money paid to sheep farmers for fleeces - as "absolutely disastrous" and this had not helped the situation for shearers.
Rising fuel costs further squeezed contract shearing operations, as they rely on diesel-driven 4x4 vehicles to carry equipment and teams from farm to farm.
Mr Matheson said wool prices had improved and hoped this would act as another encouragement to young people to learn the skill.
Shearing is seen as a male-dominated trade, but a photograph from 1940 shows Land Girls clipping sheep in London's Kensington Gardens during World War II.