First 3D scan of St Kilda's Village Bay ruins released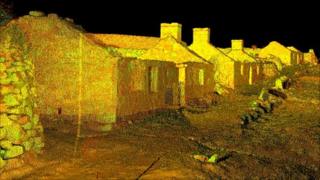 A team from Historic Scotland and Glasgow School of Art has released its first 3D image in a project to digitally laser scan ruins on St Kilda.
The remote archipelago lies 41 miles (66km) west of the Western Isles.
The image of ruins in Village Bay on St Kilda's main island of Hirta was taken for a project called the Scottish Ten.
The project's team are recording all five of Scotland's Unesco World Heritage sites and five others around the world.
It is hoped the 3D scans will aid the conservation and management of the sites.
In a separate project, survey work in a five-year project to produce the most complete mapping record of human occupation of St Kilda is nearing completion.
The Royal Commission on the Ancient and Historical Monuments of Scotland (RCAHMS) and National Trust for Scotland (NTS) have been working on the maps.