Talking teddy bear to promote Scots Gaelic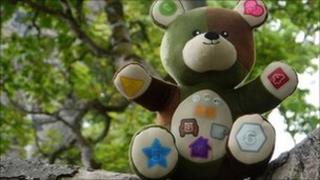 A teddy bear that repeats Gaelic words for colours, numbers and shapes is being made to help encourage greater use of the language.
The toy has been developed by Western Isles-based publisher Acair.
Aimed at children aged six months and over, the teddy is based on a bear that speaks Irish Gaelic.
Acair's Agnes Rennie said the new bear supported Gaelic organisation Bord na Gaidhlig's hopes of getting more youngsters to speak the language.
She told BBC Radio Scotland: "Bord na Gaidhlig has made it very clear over the last few months that they are really giving priority to working not just with pre-school children, but early stages.
"If you are able to engage with young children, and more importantly their parents, at that stage it can be hugely important in how they feel about the language and how they use the language from then on."
Respond to cuddles
The Gaelic teddy is not the Highlands and Islands first brush with interactive cuddly toys.
In 2007, there was a plan for a robot teddy that could interact with its owner and could alert medical staff to changes in a sick child's condition to be tested in the area.
Huggable, which was fitted with sensors, was being developed by researchers at the Massachusetts Institute of Technology in the US.
The project had support from Highlands and Islands Enterprise (HIE).
It was to have technology installed that would allow the teddy to respond to cuddles and recognise its owner as they approached it.
The first designs were shown to nursery children in Avoch in the Black Isle in 2006.