Cairngorms and Lothian hot rocks potential highlighted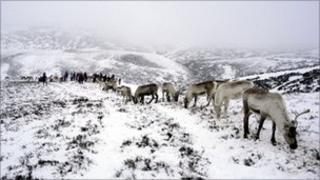 Hot rocks far below the surface of Scotland offer a means of generating limitless amounts of electricity, according to a new study.
Ed Stephens, a geologist at St Andrews University in Fife, said the Cairngorms and East Lothian have the potential for geothermal systems.
He said more research would be needed on how to exploit the resource and overcome expensive drilling costs.
Germany and Australia are already developing geothermal projects.
Mr Stephens' study used data gathered in the 1980s.
He said geothermal's potential in Scotland was again topical because the Scottish government had added it to its list of renewable energy resources.
Radioactive decay
Hard granites in the eastern Cairngorms and running towards Aberdeen offered some of the best sources of hot rocks, Mr Stephens said.
The origin of the heat is the radioactive decay of uranium, thorium and potassium contained within the rock.
Mr Stephens said this heat accumulated slowly over geological time and granites deep in the Earth's crust have become repositories of "effectively limitless supplies of thermal energy".
Electricity could be generated by pumping water down bore holes to create steam to drive power plants.
Reindeer herd
The geologist said realising the potential remained a theory and added that drilling into hard granite would be expensive.
He foresaw projects doing so to be small scale and supplying nearby populations and not involving large amounts of infrastructure.
The Cairngorms mountain range is better known for plunging temperatures in winter.
Ski-ing has been possible well into spring and the area also has a reindeer herd.
A spokeswoman for the Cairngorms National Park Authority said: "This is an interesting idea and we welcome research into new ways of generating renewable energy."