Actress Karen Gillan surprises Inverness arts students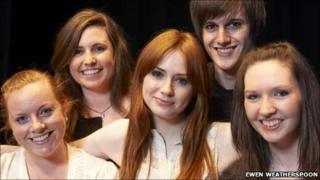 Actress Karen Gillan surprised arts students by making a guest appearance at their end of term performance in Inverness.
Gillan, who plays Doctor Who's assistant Amy Pond, also presented awards to Eden Court's London Academy of Music and Dramatic Arts students.
The 23-year-old, from Inverness, previously studied drama and performed at the city's theatre.
She was a member of Eden Court's youth dance company and senior youth theatre.
Ms Gillan said: "I am pleased and proud to be able to come back to Eden Court and help with the Lamda awards.
"I did so much stuff at that theatre over the years so it was great to be back. It was very special."