Calf sees pony as mother figure on Beauly croft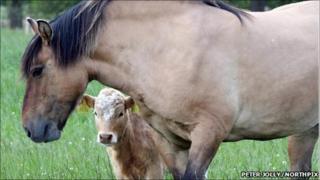 A two-month-old calf has been paired up with a 22-year-old Highland pony after being separated from its mother.
Crofter Donna Maclennan is hand-rearing the Charolais cross, called Ella, with help from Katie the pony.
Ella was a twin and Ms Maclennan had been concerned her mother would not be able to raise both on her own, so decided to hand-rear one of the calves.
The crofter at Beauly, near Inverness, said: "Ella follows Katie everywhere and thinks that she is her mum."
She added: "They hate to be separated, and when Ella is taken out of the field for feeding Katie looks for her and Ella can't wait to be reunited."
'Strange sight'
The pairing up of calf and pony has been attracting visitors to the croft, with passing motorists stopping to look and take photographs.
Peter Johnston, who was visiting the Highlands on holiday from the Borders, said: "It is such a strange sight.
"We were told about them by other tourists we met, so had to come and take a look.
"They make a great pairing, but you have to wonder what will happen when the cow becomes fully grown."