Batman's Dark Knight Rises parachutes into Cairngorms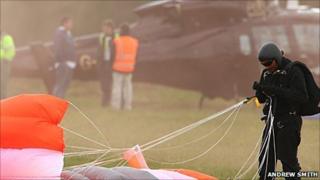 Stuntmen and a film crew have been making parachute jumps at a Highlands airstrip as part of the production of the latest Batman film.
Parachutists dressed in black and using a private jet painted black have been in action at Cairngorm Gliding Club's site at Feshie Bridge.
The club declined to comment, but sources have told BBC News Scotland online the that filming is for Batman.
The Dark Knight Rises stars Christian Bale and Anne Hathaway.
The Hollywood stars have been spotted around Nottingham this week as filming continues at Wollaton Hall.
Security has been tight at the Elizabethan house and surrounding park.
A former US military C130 Hercules transport aircraft linked to The Dark Knight Rises has also been making flights from Inverness Airport.
Feshie Bridge was reported as the location for filming earlier this month by Gavin Musgrove, editor of the Strathspey and Badenoch Herald.
It was not known if this week's activity at the gliding club was for scenes in the film, or preparation work ahead of proper filming.
A chartered helicopter was also at the club's airstrip along with the black jet.
On Tuesday, while not naming the film involved, Northern Constabulary said it had been asked to assist a crew with filming in Badenoch and Strathspey.
A police spokeswoman said: "We have been in contact with a private film company to assist with traffic management during private filming in the Badenoch and Strathspey area."
Scottish government agency, Transport Scotland, said it had been approached by the Batman movie's production company about using roads at locations across Scotland.
A spokeswoman said: "Scotland has some stunning landscapes which make a fantastic backdrop for films, and we are delighted that the nation continues to be such an attractive destination for film-makers to invest.
"In this case, the production team have made initial inquiries into the possibility of using part of the road network for a movie location.
"We have asked them to seek the support of the police before submitting further details."
The Dark Knight Rises is due for release in July 2012.
It is director Christopher Nolan's third Batman film, the previous features being Batman Begins in 2005 and 2008's The Dark Knight.
Christian Bale plays the role of Batman.
In the new film, Anne Hathaway will play Selina Kyle and her alter-ego Catwoman.
Tom Hardy, who appeared in Nolan's film Inception, will play villain Bane.